The Researchers / Valerio Fuenzalida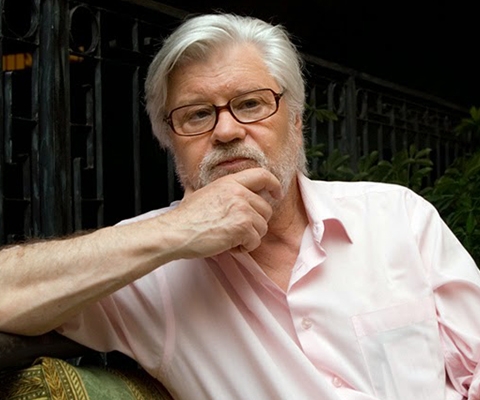 Fuenzalida,
Valerio
It moves better in a history of ideas, has an epistemological affinity with the timeline where theories are changing depending on the historical context and how the theories come to be refuted or questioned by others. He studied educational TV in the formal field of education but is more interested in the contributions he can give in the field of daily life, identifying with Paulo Freire in the line of popular education. He wonders how we have to watch TV today and is attentive to the current statements of neurobiology regarding children's cognitive abilities. For Valerio Fuenzalida, education will always be tinged with historicity.
CONTRIBUTIONS TO EDUCOMUNICATIONAL THOUGHT
Valerio Fuenzalida believes in the possibility of reaching a conceptual approach to educommunication from television and the new educational-communicative currents, is a researcher born from action, represents for educommunication the multiplicity of views and emphasis (media education, mediation technological) in which it is strengthened.
Biography
He was born in Ecuador and has a degree in theology from the Pontifical Catholic University of Chile in 1961, where he is a professor. Also here he would do his television production studies. He did a master's degree in biblical sciences at the Biblical Institute of Rome in 1963.
In an interview he said: The public media are of great importance for democracy, to achieve a better quality of life for people, for our children, for ethnic groups that are disintegrated and oppressed in many places.
In a dialogue with OCLACC, (Latin American and Caribbean Catholic Communication Organization) expressed: I consider it necessary to rethink our public media and take them out of that disastrous tradition of propaganda and government use to convert them into media where they effectively dialogue and serve audiences rural. I believe that in Latin America we must make a process of reflection, of criticism of the past; of self-criticism, and of wanting to have new ways of building citizenship through public media. "
He affirms that the public media is not only a matter of ownership or management but also of a program that includes "new forms of radio and television production, of massive reach, that effectively reach citizens. A public medium without citizenship is a contradiction.
? It is also necessary to make a critical reflection, an exchange of experiences and think of people, audiences, think of new ways to reach them in innovation, entertainment, fiction, in all ways to arrive with our messages and improve their citizenship, their participation, democratic unity, organization and quality of life. "
He acknowledged that in Latin America it has been a tendency that public media have been empowered by governments, and especially by dictatorships "for their dictatorial interests, or whatever they may be, but we have to abandon this tradition, criticize it, denounce it, prove that it is useless, that they are useless, and to build different public media and that are at the service of the audience and that are directed in such a way that guarantees that they are in fact at the service of the public and not of governmental interests or of political parties or with interests caudillistas ".
Public media can be good allies to promote a culture of solidarity, as long as the programs that are produced are made with the "sensitivity to capture these life experiences. It is not enough just to want to do this. We must also learn to do, and therefore the exchange of experiences is very important. "
He has worked as head of qualitative studies in the Programming Directorate of the National Television of Chile and as a professor in the UNESCO Chair in Social Communication.
Publications
- "Young people and Reality Show". Published by CNTV. Santiago. July 2003; pp. 54-56.
- "A decade after the Chilean TV Reform. I. Informative pluralism". Published in abbreviated form in electronic magazine Public Affairs Nº 320, 06/18/2003.
- "A decade after the Chilean TV Reform. II. Entertainment Programming". Published in abbreviated form in electronic magazine Public Affairs Nº 325, 07/02/2003.
- "Mass Media Situation in Chile". Published in TELOS Nº 56, July-September 2003; Madrid. pp. 140-143.
- "The Reform of National Television in Chile". Chapter five in "Latin Politics, Global Media", collective work edited by Elizabeth Fox & Silvio Waisbord. University of Texas Press. 2002. Austin.
- "Historical evolution of TV in Chile", chapter of the collective book "TV Stories in Latin America", under the edition of Lorenzo Vilches & Guillermo Orozco. GEDISA 2002. Barcelona.
- "Open Television and Audience in Latin America". Ed. Norma. 2002. Buenos Aires.
- "Educational Expectations of the Television Audience". Ed. Norma. 2004. Buenos Aires.
As a summary these are the author's contributions:
· Decentralization of cultural products
· Encourage greater participation in programming to increase media democracy, with the people
· Not allow the media to be used to fulfill government interests but to place them at the service of communities
· Critical reflection
The way in which their ideas could be put into practice today would begin with the idea of that decentralization, facilitating the invention of new television formats that were not created by large companies or famous magnates who do not know what the needs of the population are. Numbers are the only thing that matters, and cultural spaces are always forgotten. The movement towards what the author suggests could be started from local television.
Teach from schools to be critical and not train students who will only be recipients of everything they are told and subsequent transmitters of the dominant culture without leaving room for their own expression. New technologies today allow greater participation of all and also new forms of expression. Inventions such as social networks can serve common interests and group ideas that can be the beginning of decentralization to which the author refers. The technology will make the content created quickly disseminated and allowing each one to contribute their own reflection.